---

1/2" Thick Recessed Bolt On D Ring Kit with Bolts and Backing Plate
Part Number: RR5K
You are Looking at a really sharp, NEW 5000# capacity D ring.  This D ring measures 5" across, 4.5" wide, and is fully recessed. (3/4" deep) The center loop lays flat down in the D ring when not in use.

These are typically used in high end "top of the Line" transport trailers, Motorcycle trailers, and trucks. They can be mounted on a wood or steel floor, the back of the truck, roll off flatbed, boat dock, etc.

They are Zinc Plated for rust free service indoors or outdoors, and can be bolted or welded into place.  Price is for one D ring, but I have LOTS of these, just bid for the number you want. If you need a large qty, just let me know, I will list more
Get as many as you want, they make a great gift!




Kit Includes: 


1 (one) - 5000# 4 bolt Recessed D Ring1 (one) - 1/8" thick matching backing plate4 - 3/8" x 2.25" long Carriage Bolts4 -  3/8" hex nuts4 -  3/8" lock washers

All Zinc Plated for rust protection


Dimensions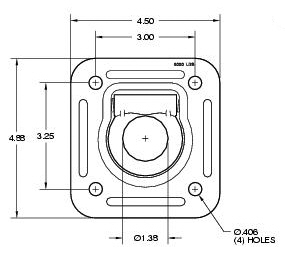 Please Note, Holes are SQUARE and are 3/8" x 3/8"