---

---
5x4.5 3500# Genuine Dexter Drum with Dexter 10" Never Adjust Backing Plate (Left Side) 
Part Number: 94545-B-FSA-DEX-L
Never Adjust Backing Plates:
Eliminate brake adjustments

Brakes automatically adjust to deliver optimum performance and braking power

Reduce stopping distances 50 percent more than other brakes
Save time and money

Do not have to get brakes manually adjusted

Reduce tow vehicle brake wear

Proper adjustment leads to better brake efficiency

NOTE: nuts and lock washers 

are

 included
This Kit Includes:
1x 5x4.5 3500# Genuine Dexter Drum
    (Part Number: 
008-247-05)
5x Matching Lug Nuts For Drum
1x 10" Never Adjust Dexter Left Side 
Backing Plate
(New Shoe, brake spring, and hardware ready to go!)
    Part Number: 023-469-00 and 023-468-00


1x L44649 (1 1/16") Bearings




1x L68149 (1 3/8") Bearings




1x 10-19 (1.719") Seals




1x 1.98 Dust Cap with dust cover





Note: We offer two different types of brake kits. Basic Kits & Complete Kits
Complete Kits are for adding brakes for the first time
Basic Kits are for adding brakes to a second axle or replacing them.  
Make sure you double check that you are ordering the right bolt pattern before you pay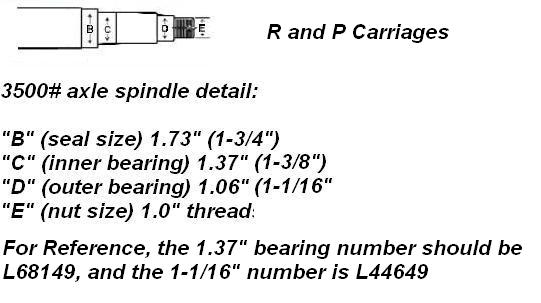 If you have a 2.75" OD Tube and a Flange with 5 holes, (to bolt the brake plate to) your axle is the 7000# Axle

If you have a 2.25" axle tube and has a 4 bolt flange it is the 3500# axle.