---

4" Round Bolt On D Ring Rated to 800# 
Part Number: RR02
These are the same D rings I install in the trailers I sell, when I set them up for Holding down Motorcycles, Lawn Mowers, ATV's, ETC. Not used for Cars or other heavy equipment 



1/4" thick "ring" bent in a triangle shape, 2" tall. 


Plastic trim ring measures 4.0" OD

 
Actual Steel Base measures 3.5" OD and can be recessed in a 3.0" hole, 1/4" deep. 


I usually install right on a frame cross member for a strong mount.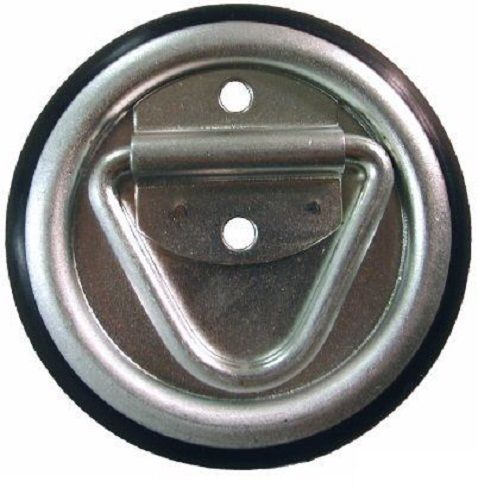 Dimensions
- 1/4" Thick Ring Bent into a triangle shape, 2" tall
- 4" OD Plastic trim ring
- Steel D ring base 3.5" OD
- If plastic trim ring is removed, can be recessed into a 3" hole that is 1/4" deep
- Mounting Holes are 1-1/8" center to center and are 1/4" wide (total of 3 holes, one in the center)
- Rated to 800# 

Click on Any Picture for a Larger, Higher Quality Image