---

6" Oval Red LED Stop Turn Tail Steel Light Box Kit Housing Trailer Truck Marker
Part Number - LBK6-R
Operates on 12VDC @0.06A
- Exceeds FMVSS 108 standards
- 100,000 hours of life
- Shock and vibration proof watertight sealed body
- Lifetime Warranty
- Body mounts in standard hole
- Circular lens output reduces mounting errors
- Standard non-polarized connector
- Low profile design reduces damage
- P2 rated sidemarker clearance lamp for heavy duty trucks, semi-trailers, cargo trailers, boat trailers work vehicles and any overland vehicle requiring quality DOT rated lighting LED 6" Oval Stop Turn Tail LightModel T660 6" Oval Stop/Turn/Tail Round lens optics increases mounting options 

using globally sourced parts


- Model T660 6" Oval Stop/Turn/Tail

- Round lens optics increases mounting options

- Sealed Automotive Grade Polycarbonate Lens

- Operates on 12VDC @ .120mA

- 100,000 Hour LEDs

- Shock and Vibration Proof

- Fully Potted Electronics

- Limited Lifetime Warranty

- Meets FMVSS 108 Requirements for Wide and Narrow Vehicles
Examples below of retrofit installations on older trailers: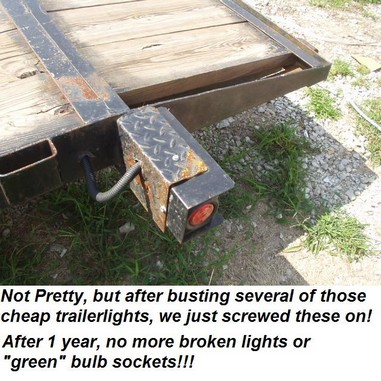 Simple installation done on a old Utiltiy trailer that had the cheap Lights: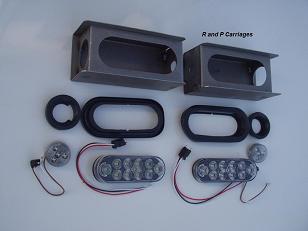 We just drilled two small holes in the back to line up with the original holes, and bolted on the new lights
Now we have a step to step up on the trailer!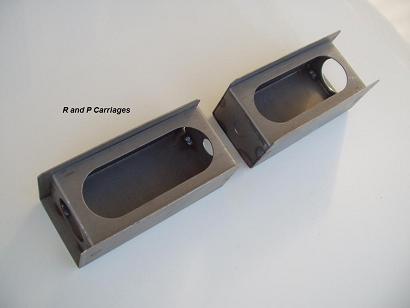 Set of New 14 Gauge Steel Light boxes 
WITH LED LIGHTS!

This kit includes:
2 - Welded 14 Gauge Light Mount Boxes (one left, one right) 
2 - 6" Oval TecNiq Red LED Lights 
2 - 6" Light Mounted Rubber Grommets
2 - 3 Wire Seal Light Plug Pigtails
2 - 2" Round TecNiq Red LED lights
2 - 2" Round Rubber Grommets
2 - 2 Wire Sealed Light Plug Pigtails


Light Box Specifications
- The Light Box enclosures are custom made for us to use on our trailers. They are heavy 14 Gauge Steel,
- Steel is formed to act as a full enclosures for the lights, with a 3/4" "lip" around the outside of the lights to protect them from impact or damage! (the number one cause of light failure on a trailer!)
- The holes in the lights are STANDARD 6" oval grommet mount lights, and 2" round grommet mount side marker lights, The LED lights are Standard size 6" oval and 2" round lights. Long Life LED, VERY BRIGHT!

- Can be mounted to the side, top or bottom of your trailer.
- We offer volume discounts if you need more than one set.
- Measure just under 4"x4"x9"   Hole size is 2.25" tall and 6.75" long, and 2.25" round.
- Hole that wires come through is .75" 

Lighting Specifications

2" Round Marker (S30-RR00-1)

Dimensions: 2.00" x 0.56