---

Complete Add Brakes to Your Trailer Kit with a 5 x 4.5 Bolt Pattern and Genuine Dexter Never Adjust Backing Plates

Part#: 
82475-C-FSA-DEX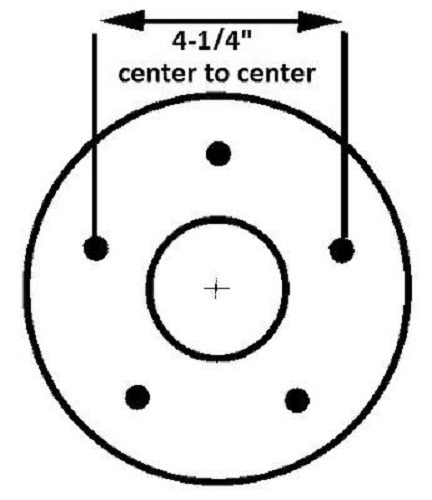 Complete Trailer Brake Setup, with drums, seals, Brake shoes, Bearings, new hardware, backing plates, Battery Break Away, EVERYTHING for one axle! 
for 3500# axles from Dexter, AL-KO, AXIS, Quality, and others!


Measurements from Center Bolt Hole to Center Bolt Hole is 2 7/8" on Backing Plate.

In order for these brakes to work, you must have a brake controller and a 7 way plug installed in your truck


Benefits of Never Adjust Backing Plates
- Eliminates brake adjustments
 - Brakes automatically adjust to deliver optimum performance and braking power
 - Reduce stopping distances 50 percent more than other brakes

If you have a trailer without brakes, and you want to add them, this kit has EVERYTHING you will need. This kit fits standard 3500# axle, either Spring or Torsion, EZ lube or Standard. Click here for wire and in stallion instructions


Most 5 bolt wheel trailers are 3500# axles. (does yours have a 2-3/8" axle tube?) Some small trailers (usually with small tires and a 1-5/8" axle tube) will have the smaller spindles, and for those you will need a smaller (or larger) brake kit (click here for the smaller brake kits) Look at the measurements below if you are not sure.


Measurements from Center Bolt Hole to Center Bolt Hole is 2 7/8" on Backing Plate
This Kit Includes: 
TWO - Genuine Dexter Never Adjust Brake backing plates, 3500# per pair, 10" x 2.25, one left, one right
    Left Hand Part Number: 023-468-00    
    Right Hand Part Number: 
023-469-00

 
TWO - New 10" brake drums, 

5 x 4.5" bolt pattern

 with races already pressed in 
    Part Number: 008-247-05    
    (click here for other bolt patterns sizes)
All hardware to attach backing plates to axle mount plate (special 7/16 nuts).
All brake hardware, springs, levers, magnets, shoes, etc.
New inner grease seals
All New Wheel Bearings (Shipping loose with kit):
TWO - 1.71" 10-19 seals
TWO - 1-1/16" bearings
    Part Number: L44649
TWO - 1-3/8" bearings    
    Part Number: L68149
TEN - Matching lug nuts, 1/2-20

TWO - New 1.98" EZ Lube Dust Caps
    Part Number: 021-041-02 and 085-001-00
25' Ft of 14 Gauge Two Conductor High Tempature Brake Wire (Enough for a 23 ft long trailer!)
Assorted wire connectors and wire ties (Everything you need!)
4.5 Amp Hour, 12 Volt Gel Cell Rechargeable break away battery with built in battery charger
Battery Case to mount to trailer
Pull pin emergency break away switch
New 7 Way Trailer Plug
Looking for a Basic Kit that comes does not come with the breakaway, wire, and other miscellaneous parts? Click Here!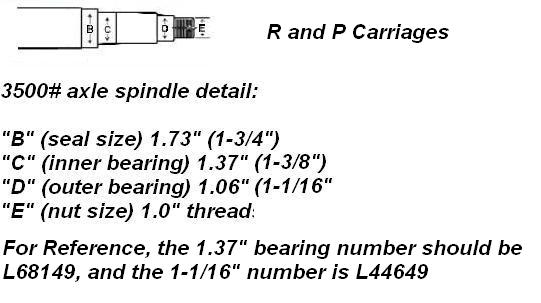 In addition, you should see a small square plate welded to the axle tube, with 4 holes, (to bolt the brake plate to) and your axle tube will be about 2 1/4" OD. If you have a 2.75" axle tube, it is the larger 5200, 6000, or 7000# axle, and if you have the smaller 1-5/8" axle tube, it has the smaller 2000/2200# axle (see my other auctions for brake kits for these) 
This auction is for a trailer with a 5 bolt, 4.5" bolt pattern!  I stock all sizes, so please check my other auctions or specify you want a different size!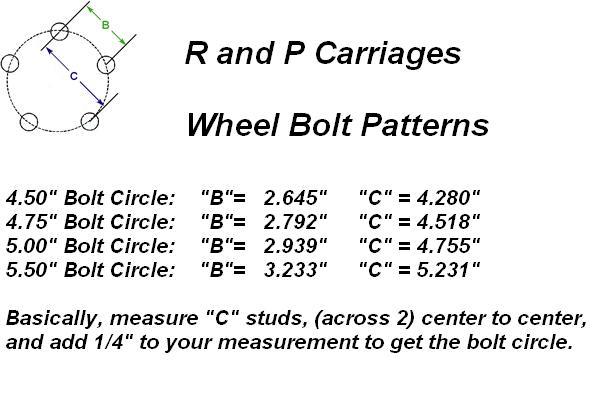 What size axle do you have?? Click here to figure it out!
It has come to my attention that some axles do not have the small 4 bolt flange welded to it, that is needed to mount the brake backing plate. Below is a picture  If you do not have this, I can furnish the plates, but they must be WELDED on:
CLICK HERE if you need the Weld on Brake Flange for your axle!
Note: We offer two different types of brake kits. Basic Kits & Complete Kits
Complete Kits are for adding brakes for the first time
Basic Kits are for adding brakes to a second axle or replacing them.  
Make sure you double check that you are ordering the right bolt pattern before you pay
CLICK HERE To See All Of Our Brake Kits