---

Complete Trailer Oil Bearing Kit 1.75" x 1.25" #42 spindle with Oil Cap 21-35
Standard 8 lug 6000# and 7000# Axle, Dexter, ALKO, Rockwell, Lippert.     
Auction is for ONE NEW Oil Bath Axle bearing kit, for one axle hub. Fits most 6000# (8 lug) and 7000# axles from Dexter, AL-Ko, Quailty, and others, both EZ-lube and Standard, with or without brakes.
You will need TWO for both sides of an axle, shipping is free on extra kits purchased.
CHECK YOUR BEARING NUMBERS BEFORE YOU BUY! (not all axles take the same outer bearing, this is large 14125A)


Includes:
ONE #14125A Outer Bearing (1.25" ID) (please confirm before ordering as they do change with different hubs)
ONE #14276 Race (Fits #14125A Bearing)
ONE #25580 Inner Bearing (1.75" ID)
ONE #25520 Race (Fits 25580 Bearing)
ONE Seal #10-63 (2.25" ID)
ONE Cotter Pin
ONE Tang/Lock Washer
ONE Oil Cap #21-35


Fits standard #42 axle spindle used on 6000# and 7000# axles 
(If you are not sure, see chart below, we send ONE SEAL, 2.25" ID, if you need a 2.125" seal, let us know! ):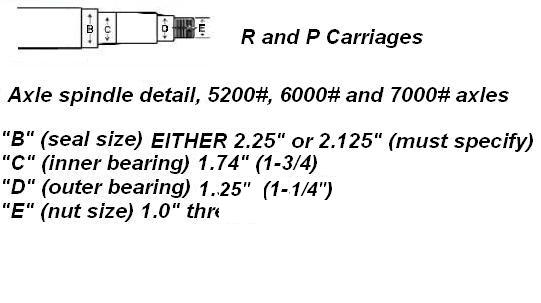 Puerto Rico , Alaska, Hawaii and other areas outside the 48 Contiguous States may have higher shipping cost, contact before paying, for shipping Rates and Terms, and agree to shipping terms


We are a Family company and have been in business over 15 years, and currently stock over 200 trailers of all types, with a full Service Department and Parts Inventory with a 10,000 sq ft Warehouse. We stock AND INSTALL what we sell! We can Answer your Questions! We do get busy at times, but you can count on is warm friendly customer service, and a honest, personal approach to doing business. Look at our feedback, and rest assured you are dealing with solid, knowledgeable company!

-Robin and Paul

---
Our Location: 

 R and P Carriages
270 E Jackson Street
Seneca, IL 61360


Our Hours are 9:00AM to 5:00PM, Central Standard Time, Monday through Friday, and 9:00AM-3:00PM Saturday

We offer a full satisfaction guarantee and reasonable, so give us a chance! We allow returns, refunds or exchanges, so purchase with confidence! To directly contact us, you can email us (our hours are 9-5 M-F so give us a chance to respond)