---

Build your 3500# trailer Axle with electric brakes!

Common 5 on 4-1/2" bolt pattern 
(4-1/4" stud Spacing)
 Part Number: BYOAK-84-D545-2.0R
This kit includes:
2 x EZ lube Spindles, with brake flanges already welded in place, in the proper position, perfectly lined up and square!
2 x 10" hub drums, 5 x 4.5" bolt pattern (Code Blue) (
other bolt patterns available, 5x4.75", 5x5.0" 5x5.5" and 6x5.5"
)
2 x 10" electric backing plates, one left, one right (
Nev-R-Adjust is also available
2 x Spindle Castle Nuts
2 x Spindle Round washers
2 x Spindle Cotter Pins
2 x L68149 1-3/8" inner bearings
2 x 2:44649 1-1/16" outer bearings
2 x 1.75" Double lip grease seals
2 x 1.98" EZ lube dust caps
10 x 1/2-20 Lug nuts
2 x Rubber plugs for dust caps
2 x 2.375" weld on spring perches (RP code blue)
8 x 7/16" fine thread nuts to bolt brake plates to axle
In short, every part you will need to build a trailer axle except the pipe or tube.
Just add common 2" Schedule 40 Steel Pipe! (Standard 2" sch 40 pipe is 2.375" OD, 2.04" ID)
Details on some of the parts supplied below:
This is a 3500# axle kit  used on many standard trailer and camper axles. Unit has standard brake backing plate mount flange already welded in place for the standard 10" brakes Included

Spindle details (kit includes two):
2" Weldable Base
3.37" Long Shaft
8.25" Long Overall
2.5" From Bottom of Spindle to Bottom Of Flange
5.25" From Top of Flange to Top of Spindle (Not including zerk)
3.75" Wide Brake Flange
This is a EZ Lube style (includes grease fitting to grease bearings, right on the end of the spindle!)
5.0 lbs.
Uses standard Dexter or AL KO Axle parts See Below (click picture to enlarge)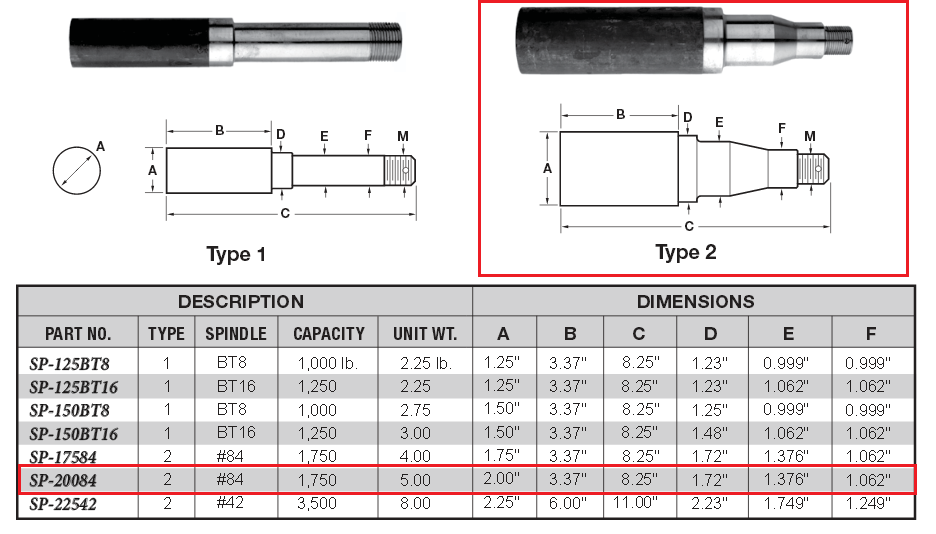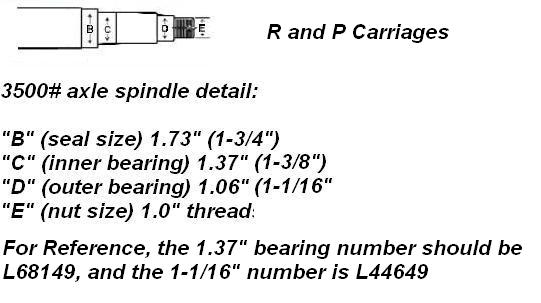 Brake and Drum Details
Includes common 10 x 2 Electric brakes (green wire) on each left and right.
Also includes 5 x 4.5" bolt pattern Drums, with Races already pressed in, and all bearings, double lip seals, and mounting hardware included.  All Lug nuts and dust caps included (we ship EZ lube style dust caps with removable rubber center plug..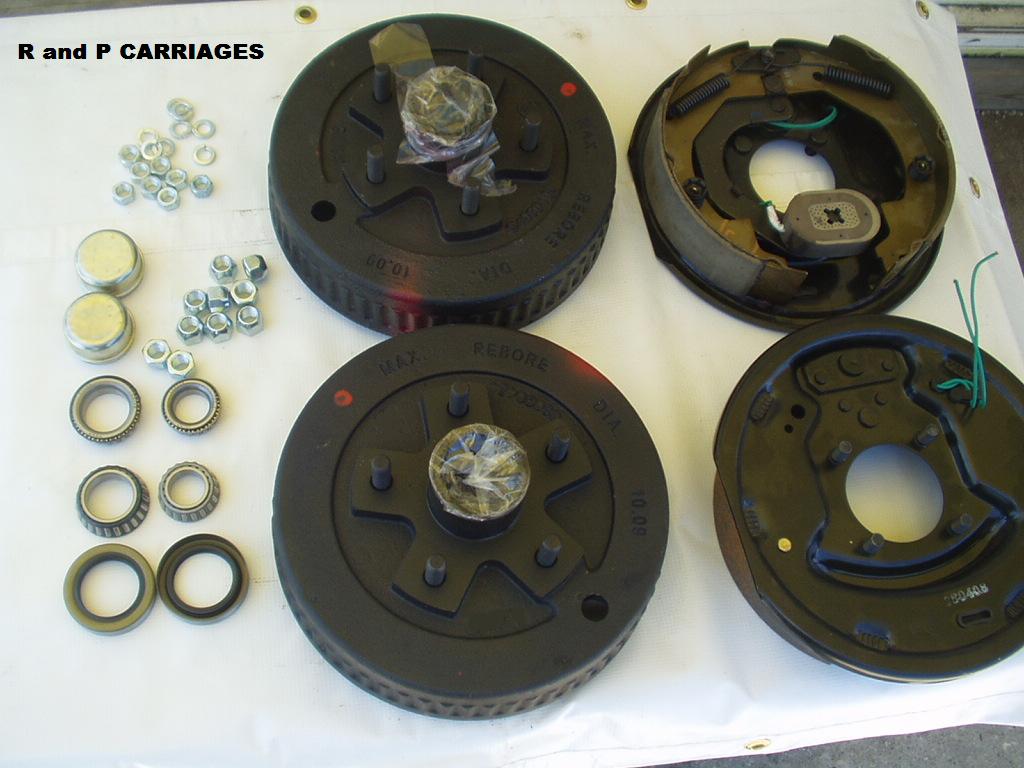 MEASURE your Bolt Pattern if you are not sure!
The most "common" pattern is 5 x 4.5" (measures 4.25" stud to stud, skipping one)
Use the chart below to determine your bolt pattern, and remember,
 on any 5 lug stud hub, measure stud to stud (skipping one) and basically add 1/4" to that measurement.