---

Dodge 7 way and 4 Way Truck End Multi Tow 
Trailer Connector Plug with OEM connector

This Trailer plug fits many Dodge, Chrysler, Jeep and Mitsubishi Factory connectors, and plugs right in, Providing you with the two most common trailer plug types, the standard 7 way blade type plug used on almost all new trailers, and the common four flat plug used on most smaller trailers.

It includes wire instructions, Metal Mounting Bracket and mounting screws.
Fits Vehicles
Replacement socket for the following vehicles with a factory 7-way:
2007-2007 Chrysler Aspen
2003-2008 Chrysler Pacifica
2004-2008 Dodge Sprinter
2009-2009 Dodge Sprinter 2500/3500
2001-2003 Dodge Ram Van
2000-2009 Dodge Ram Pickup 2500/3500
2000-2009 Dodge Ram Pickup
2000-2010 Dodge Dakota
2005-2007 Dodge Durango
2004-2017 Jeep Wrangler
2006-2010 Jeep Commander
2000-2010 Jeep Grand Cherokee
2004-2007 Jeep Liberty
2007-2010 Mercedes Benz GL Class
2006-2008 Mitsubishi Raider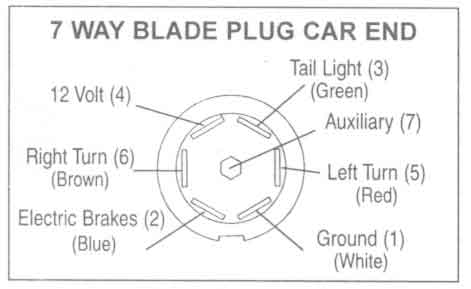 Please contact us if you have wire questions, we un a full service trailer repair shop, so we re-wire trailers daily! And remember, you can not depend on wire colors alone, you should test your particular trailer wire system. we offer phone assistance, but can not be responsible for improper wiring done by the customer..
Trailer Connector RV Style 7-Way Blade with molded lead.
Pre-wired 7-Way Trailer Connector

length is including connector

Wire gauges:

14 gauge - red, brown, green, and yellow

12 gauge - Blue

10 gauge - White and Black
Wiring Code

Molded Connector           

Function                                      


Usual Trailer Wire

White Wire

Ground

White Wire

Red Wire

Left Turn and Brake

Yellow Wire

Brown Wire

Right Turn and Brake

Green Wire

Green Wire

Tail Lights

Brown Wire

Blue Wire

Brake Power

Blue Wire

Black Wire

12 volt (hot lead)

Black Wire

Yellow Wire

Aux.

-