---

New Buyers electric tongue jack with adjustable leg
Part#: 93500

This RV/trailer tongue jack has a voltage input of 12 VDC power with a manual crank over ride included. This product also has a 3,500 lbs lifting capacity and 5,000 lbs breakaway capacity (assist hitch ball release) It also has steel harden gears so they are strong,and full 24" stroke (18" power+6"manual drop leg extension) 

This jack has a fast 30 to 45 second stroke time, over sized 5-1/4' foot pad so no more divots in your yard or where ever you are setting it up! The zinc plated foot plate is adjustable on 1-1/2" centers (detachable) And that is not all, this jack also has a built in leveler gauge right were you need it, and duel night lights. The switch is weather proof and sealed. The durable black powder coat with wrinkle finish is nice. 

New for 2010, the jack now comes PRE WIRED with the 7 way trailer plug!
All you need to do is plug the jack into your truck to use it!
(You must have 12 volt trailer power fuse on your truck installed, or you can easily remove the included 7 way plug from the cord and wire to the battery on your RV or Trailer,

Please note, on some newer trucks (Ford in particular) the truck will NOT power the trailer plug unless a trailer is plugged in, so you MUST wire the jack directly to the 7 way plug on your trailer.  These new Ford trucks will not power the trailer plug, effectively making this jack not work with the plug it came with. If you have a newer truck, that operates in this manner, you will need to remove the 7 way plug that comes with this jack, and "hard wire" the wires from this jack into you existing 7 way trailer plug on your trailer. This is easily done, and Doing this will allow the jack to work off the trailer battery (if you have one) and any time the trailer is plugged into the truck)

The over all height of this jack is 26-1/2".
When installed, the jack motor sticks up 18-1/2" ABOVE the triangle mount plate,  and when in the fully raised position, the jack foot is 9-1/2" below the mount plate. The inner tube is 2.0" and the outer tube is about 2.2 inches diameter (Uses the common 2.25" hole with 3 mount bolts in a Triangle pattern)


This jack has everything I could think of 
needing when dealing with the tongue on my trailer. This jack will make it less difficult for everyone who uses it. I hope when you get this jack you are as happy as I am with it.     

Click on any picture below to see a larger image: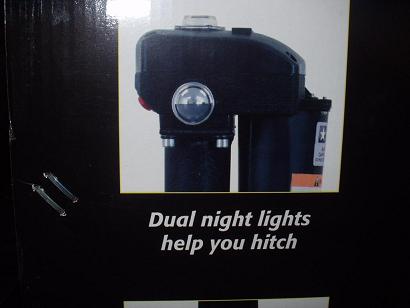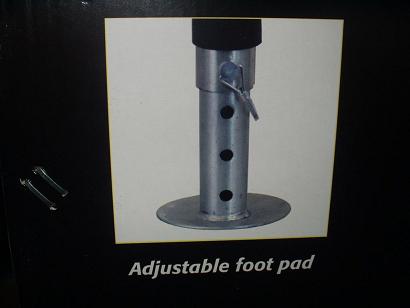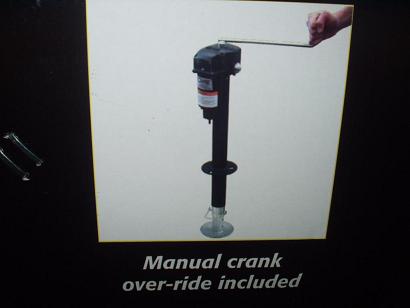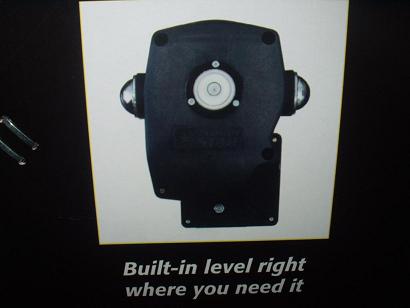 Plugs right in: