---

FIVE - TecNiq Blue LED 3/4" Round Clearance Marker Light 
Part Number: S33-BC00-1

This is a high quality light, Manufactured in the 

U

S

A

, by TecNiq. All TecNiq lights use some of the best 3rd Generation LED's available today. 

This is not one of those China lights that uses the old style "Christmas Tree Bulb" type LED that is so dim, you have to use large numbers of them to produce a bright light. Due to the large number of solder joints and electrical connections in those lights, they are prone to failure. 

The TecNiq lights are fully tested, produce bright, crisp light, and we are so confident in our light, we offer a Limited Lifetime, no hassle warranty.



High impact polycarbonate body, filled with TecNiq's unbelievably tough urethane, makes this light nearly hammer proof. Mounts by drilling a 3/4 inch hole and pressing into a grommet. A single high-output, next-generation LED typically exceeds specifications by several times. As always, they have used the best quality components and simplified design to provide our customers with a top quality product at a fantastic price.

By popular demand they also provide this same light with white, green and blue LED's in a clear lens. They are very useful for indicators, accent lighting and area lighting in tough environments.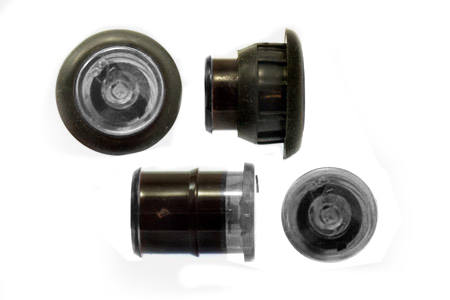 And they are Manufactured in the USA, by USA workers!

Features
Ultra-efficient lens design leads the world in performance
Miniature size and low profile reduces damage
Reliable performance over 100,000 hours (color) 50,000 (white)
Waterproof, sealed body that is immune to shock and vibration
Easily mounts into standard 3/4" hole
P2 output exceeds FMVSS 108 specifications
Circular lens output reduce mounting errors
Made in the USA with a Lifetime Warranty
P2 rated side marker clearance lamp for Heavy duty trucks, Semi-trailers, Cargo trailers, Boat trailers Work vehicles and any motor vehicle requiring quality DOT rated lighting

Specifications