---

Complete Trailer Brake and bearing Setup, for one left side.
This is ALL parts on your axle, except the "axle pipe"! 
This kit will basically give you a Brand new left side axle!

Comes with the drum, bearings and seal, Brake shoe, new hardware, 12x2 Brake backing plate (left side), 
for 5200#, 6000# and 7000# axles!
Part#: 568183-IMP-L


We dont just sell them, we install them every day! 
If you have questions, just ASK, or give us a call 815-357-****

Fits both Torsion and leaf spring axles!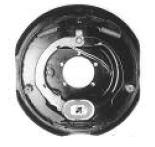 ONE Complete brake drum and hub assembly, includes all new bearings, Seals, Dust cap,  for one axle.
THIS DRUM HAS 9/16" STUDS!!!


Includes 12x2 brake drum, to fit 8 bolt wheel
 #14125A Outer Bearing (1.25" ID) 
Inner bearing 25580 (1.75 ID) 
Dust Cap, 2.72" OD
8 - 9/16" Lug Nuts
and seals #10-36 2.25" ID and 2.125" ID seal, (You axle could use either one, we send both)  
New Left brake shoe, 12" x 2" 
New Magnet
All new Brake Spring and hardware 
All assembled on a new backing plate with (5) new 3/8" fine thread bolts 
 
One complete brake assemble, everything you need to replace the complete hub drum and all parts, assembled and ready to bolt on for the left side!
Fits #42 Spindle