---

Both a 7 Blade and 4 Pin Trailer plug Tester 
Have you ever been just about to leave to a job site or go on a vacation, only to hook up to your trailer to find that your lights are not working and have no idea what the problem is? Never will this happen again with this tester! This checks to see of the 12V power is running from your tow vehicle is reaching your trailer plug or if there is something wrong with the wiring.
Most of  Today's trucks have dedicated fuses for the trailer wire circuits, so until now, you really had no way to check and test fuses and trailer power, to confirm the truck is working as it should!
Easy to use
Plug your tester into the tow vehicle's towing plug
Operate vehicle's turn signals, lights and brakes
When the power is present, the tester's green LED light will glow
I also have these trailer cords in other lengths and styles, CLICK HERE to see them
Need help sorting out the wire colors?  Click here for help!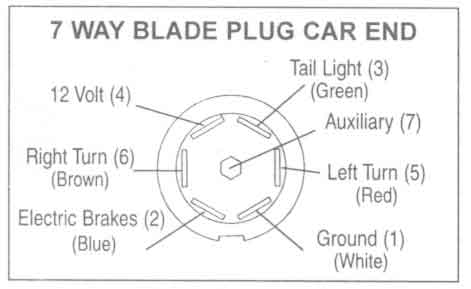 Please contact us if you have wire questions, we un a full service trailer repair shop, so we re-wire trailers daily! And remember, you can not depend on wire colors alone, you should test your particular trailer wire system. we offer phone assistance, but can not be responsible for improper wiring done by the customer..
Trailer Connector RV Style 7-Way Blade with molded lead.
Pre-wired 7-Way Trailer Connector
length is including connector
Wire gauges:

14 gauge - red, brown, green, and yellow
12 gauge - Blue
10 gauge - White and Black

Wiring Code
Molded Connector            

Function                                       

Usual Trailer Wire
White Wire
Ground
White Wire
Red Wire
Left Turn and Brake
Yellow Wire
Brown Wire
Right Turn and Brake
Green Wire
Green Wire
Tail Lights
Brown Wire
Blue Wire
Brake Power
Blue Wire
Black Wire
12 volt (hot lead)
Black Wire
Yellow Wire
Aux.
-
---