---

TWO- (2) TecNiq 15" Dual Function LED Red Lights With Clear Lens 
Part Number: T10-RC00-1
This is a high quality light, Manufactured in the USA, using globally sourced parts by TecNiq. All TecNiq lights use some of the best 3rd Generation LED's available today. 

This is not one of those China lights that uses the old style "Christmas Tree Bulb" type LED that is so dim, you have to use large numbers of them to produce a bright light. Due to the large number of solder joints and electrical connections in those lights, they are prone to failure. 

The TecNiq lights are fully tested, produce bright, crisp light, and we are so confident in our light, we offer a Limited Lifetime, no hassle warranty.



This quality waterproof 15" lamp can be mounted in unique locations where space is a premium. While narrow and thin, it meets FMVSS requirements with a wide angle of bright illumination for maximum safety. Unlike similar lamps, ours is TRULY vacuum sealed for a lifetime of care free service.

Made with top-quality circuit board materials, urethane potting and durable polycarbonate construction that youve come to expect from TecNiq, the quality and value of this lamp are unsurpassed in the industry.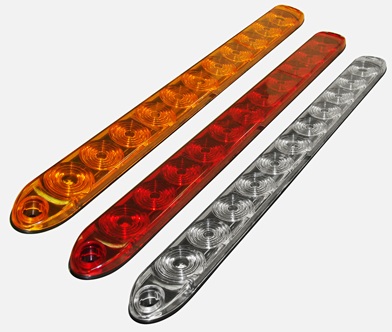 And they are Manufactured in the USA, by USAworkers!

Features
Stop/Turn/Tail with ultra-low profile and narrow width
Can be mounted horizontal, vertical or at an angle
Slim design for use where space is a premium
Reliable performance over 100,000 hours
Waterproof, sealed body that is immune to shock and vibration
Meets all FMVSS 108 requirements for wide and narrow vehicles
Made in the USA with a Lifetime Warranty
Stop/Turn/Tail lamp for use on Heavy duty trucks, Semi-trailers, Cargo and Utility trailers, Boat trailers, Work vehicles and any wide or narrow motor vehicle requiring quality DOT rated lighting

Specifications

Click here to our other lighting products and colors from TecNiq lighting

These lights are available in Red, Amber, and White with Clear and Colored Lenses. Click Here to see!