---

BARGMAN 7 way RV trailer plug connector, 1 piece molded plug with  8 ft cord

Part#: RN TC67-003 


Do it right the first time!
NEW Bargman Brand 7 way trailer connector.  This is the TOP QUALITY Commercial type one piece molded plug with 8 foot double jacketed cord and seven large gauge colored wires. Unlike cheaper plugs that only make contact on one side (sometime resulting in a loose connection) this plug has copper spade connectors that grip both sides of the spade connector for a sure connection every time! (see pictures)
Wires sizes are:
TWO- 10 gauge 30 amp wires
ONE- 12 gauge 20 amp wire
FOUR- 14 Gauge 15 amp wires
All eight feet long!
Use this to upgrade your current old style plug to the newer 7 way plug, or to replace your current plug that has turned all green and yucky  (just look in there and see!)
If you want a Custom wire junction box to connect this to your trailer the RIGHT way, click here!
Looking for another connector or adapter, CLICK HERE!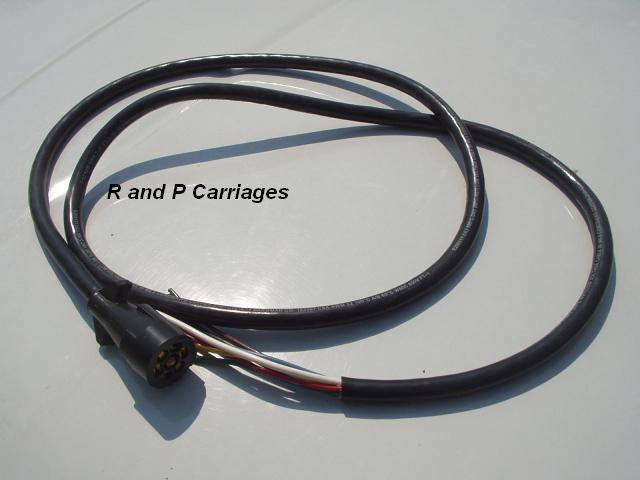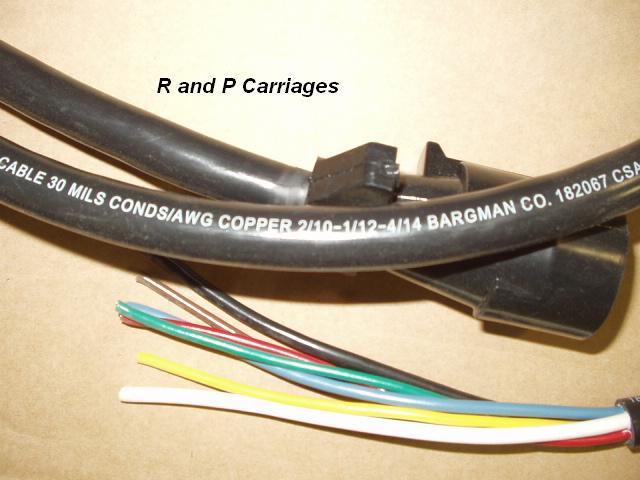 Need help sorting out the wire colors?  Click here for help!


Please contact us if you have wire questions, we un a full service trailer repair shop, so we re-wire trailers daily! And remember, you can not depend on wire colors alone, you should test your particular trailer wire system. we offer phone assistance, but can not be responsible for improper wiring done by the customer.. 

Trailer Connector RV Style 7-Way Blade with molded lead.
Pre-wired 7-Way Trailer Connector
length is including connector
Wire gauges:

14 gauge - red, brown, green, and yellow
12 gauge - Blue
10 gauge - White and Black
Wiring Code
Molded Connector            

Function                                       

Usual Trailer Wire
White Wire
Ground
White Wire
Red Wire
Left Turn and Brake
Yellow Wire
Brown Wire
Right Turn and Brake
Green Wire
Green Wire
Tail Lights
Brown Wire
Blue Wire
Brake Power
Blue Wire
Black Wire
12 volt (hot lead)
Black Wire
Yellow Wire
Aux.
-
I also have these trailer cords in other lengths and styles, CLICK HERE to see them